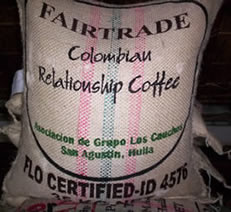 Los Idolos. Grown in the mountains near the famous archeological park of San Agustin by the 65 members of the Los Cauchos cooperative, Huila province, Colombia.
This coffee is Fairtrade certified; FLO certificate 4576.
Los Idolos is grown in a very fertile region of Colombia at an altitude of 5,400 to 6,000 feet above sea level. This Central mountain range is situated at the south west part of Colombia, covering the south part of Huila and Cauca departments. It is blessed with excellent characteristics to produce fine coffee. This part of the coordillera offers high altiude, a fresh water supply and a rich volcanic soil. The farming methods are traditional and the coffee is hand-picked; producing quality coffee. The main harvest is from September through January, and a the fly crop is from March through July.
The microclimatic conditions of this area are ideal because of the rich volcanic soil, its generous spring water supply and its constant year-round precipitation. Coffee is planted in the shade in small parcels. Producers of Los Idolos have preferred the traditional varieties of coffee plants and are sacrificing the yields of higher production varieties, but are very proud of the cup characteristics and quality that their plants provide. The coffee comes strictly from Arabica Typica plants. In addition to the special care farmers take in processing their coffee, they are drying this parchment under direct sunlight only.
Cupping note:
This coffee has a strong and sweet mandarine and vanilla aroma, fruity acidity, mild body and a nice caramel and malt aftertaste.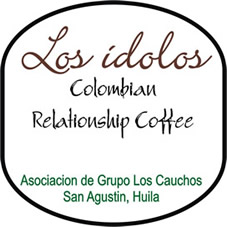 | | |
| --- | --- |
| Characteristic | Value Description |
| Name | Los Idolos |
| Growers Associations | Asociación de Grupo Los Cauchos. |
| Location | San Augustin , Huila, Colombia |
| Altitude | 1750 amsl |
| Soil | Volcanic |
| Climate | Temperate |
| Species | Coffea Arabica |
| Shade | Semi shade |
| Screen Size | 15+ |
| Process method | Washed Arabica |
| Drying method | Sun dried |
| Grade | 1 Speciality Grade |
| Moisture % | 11.6 |
| Certification | Fair Trade FLO ID 4576 |
| Cupping notes | This coffee has a strong and sweet mandarine and vanilla aroma, fruity acidity, mild body and a nice caramel and malt aftertaste. |